Last months 5-Star Experience post had a peek into Milan but focused on Park Hyatt Milan. In 2015 I was able to explore a few cities in Italy, starting with Milan.
Milan, Italy
Since our flight stopped here we decided to take advantage and end a month-long trip with 2 days in Milan, a city full of art, food & fashion. Although it was rainy, that didn't stop us from exploring and having a lovely time.
Introduction + Importance
You often hear mixed reviews about Milan, but the city surprised me in many ways. Before making any judgements, like with any place, really go see it for yourself first and then decide.
"Home of Italy's stock exchange, an industrial powerhouse and the internationally accepted arbiter of taste in fashion and design, Milan is a seething metropolis. At times it can seem brash and soulless but beneath the veneer is a serious sense of history and place. The grand Gothic cathedral, the Duomo, lies at the geographical heart of this one-time Imperial Roman capital, and expresses the love of beauty and power that still drives the city today. Art collections old and new, unparalleled shopping, one of Europe's biggest trade-fair complexes, sparkling nightlife, the prestige of opera at La Scala, the mark of Leonardo da Vinci's genius, a religious addiction to calcio (football), and endless opportunities to eat the best of Lombard and Italian food make Milan much more than the puritanically work-obsessed city it is often portrayed as." ― Lonely Planet. Read more.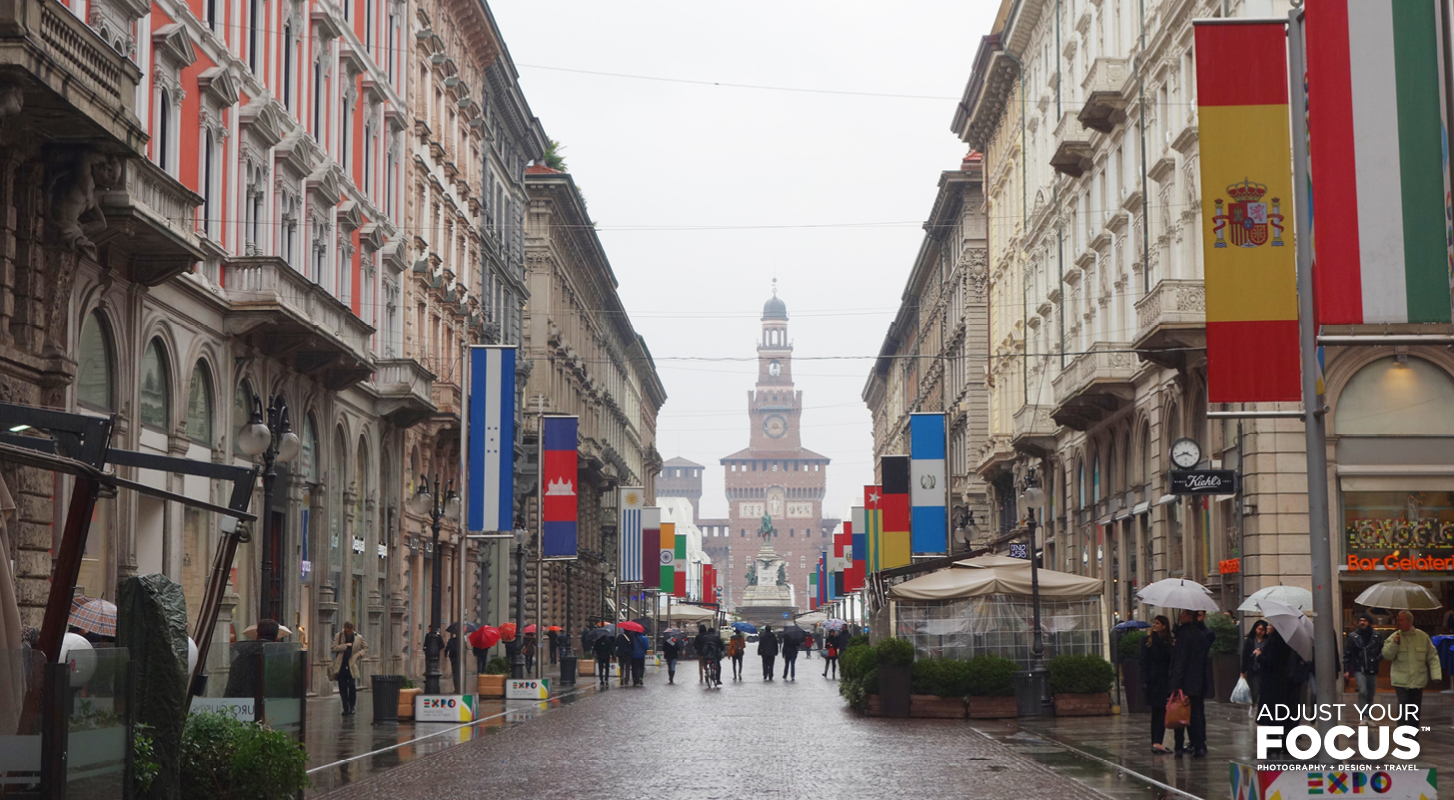 What to Do
Personal highlights of my 48 hours in Milan.
Duomo
The Duomo is an extravagant Gothic cathedral that took nearly six centuries to complete and is probably the most recognized landmark in the whole city. Did you know it is listed as the 5th-largest church in the world? The exterior is covered in Candoglia marble, which gives it a off-white pinkish color, and the interior is no less stunning.
Plan to take a tour during the day, which allows you to skip the long line to see the interior. I was able to admire the exterior of the Duomo during the day as well as at night + a rainy evening. Although it looked different each time, the architecture and detail was just as impressive.
Fun fact: the Duomo has a rooftop terrace with an incredible view of the city. How many churches out there can you say that about? Unfortunately it was raining the whole time I was there so didn't make it to the top, something for the next trip!
For all Duomo + square pictures: click on one to bring up a slideshow gallery
City tour
I'll admit I'm not a big fan of tours but they are helpful when you're not in a place for very long. City Sightseeing is one I enjoy because you have headphones that allow you to listen to recordings, giving you enough information about what you're looking at. You also have the flexibility to get on and off, stopping to see what interests you. I've gone on these type of bus tours in many cities around the world and think it's a great introduction to a new place. Make sure you see the sights but also take time to wander down charming streets and find those local gems. What do you think?
Fun fact: Milan is where you can see da Vinci's masterpiece, 'The Last Supper'. It was neat to see in person after studying about the piece in art history classes (you're not allowed to take any pictures)
For all city pictures: click on one to bring up a slideshow gallery
Sforzesco Castle (Castello Sforzesco)
This was one of the stops (along with the Duomo) I got off at on the bus tour. Sforzesco Castle is a castle that was built in the 15th century by Francesco Sforza, Duke of Milan. Over the 15th and 16th century it  was demolished and rebuilt. Today, after being restored and embellished, it's become a symbol of the city itself and of its history. With the rain, it wasn't the best day to walk around and see the castle but below are a few pictures I took.
For all castle pictures: click on one to bring up a slideshow gallery
Local specialties
In the Park Hyatt post I mentioned making a real Italian espresso, a great start to the day. Along with espresso, and of course gelato in Italy, every city or region is usually known for at least one specific dish and in Milan that dish is Risotto alla Milanese.
Risotto is made with a starchy rice that has the ability to absorb a lot of liquids and generally has a creamy consistency. It can be prepared many different ways – with mushrooms, seafood, mixed vegetables, but the Milanese recipe calls for saffron. This is a relatively simple yet very flavorful recipe, and was quite delicious.
Fun fact: in Italy risotto is served as a primo (first course), which means technically you could order a few more dishes after that… if you're hungry enough.
Galleria Vittorio Emanuele II
The Galleria is beautiful day or night, always buzzing with people gazing (and taking pictures, of course) at the spectacular architecture, window shopping at the upscale store and taking a break at one of the cafés and restaurants.
When it comes to shopping, Galleria Vittorio Emanuele II is one of the most high-end destinations. You'll  find names like Prada, Versace, Louis Vuitton, Gucci, Armani, and others. These aren't stores where I'd ever shop but is worth a visit for its architecture.
It is a four story arcade with a roof that combines glass and cast iron and happens to be one of the oldest shopping malls in the world. Make sure to look down at the mosaic floors and up at the arched ceiling… it's stunning day or night.
What about you?
Have you been to Milan? If so, what did you think? If no, would you like to visit? I was only there for 48 hours but would love to go back for longer and really explore + discover the hidden gems.
Today's tidbit
"Milan, for me, is a city of discovery. You can find some amazing gardens behind some great houses; I also love finding beautiful galleries and incredible shops, but you have to explore. And the food is amazing." ― Francisco Costa