After returning home from my month overseas in March, I spent April + May working on freelance design projects and launched Adjust Your Focus™. While I love being home, after about a month the travel bug bites. One of my best friends, Holly and I had been talking about exploring Europe for a while and finally decided to make that a reality in June!
Image below: Sammy had some thoughts about my packing, climbing into my suitcase. How cute is he?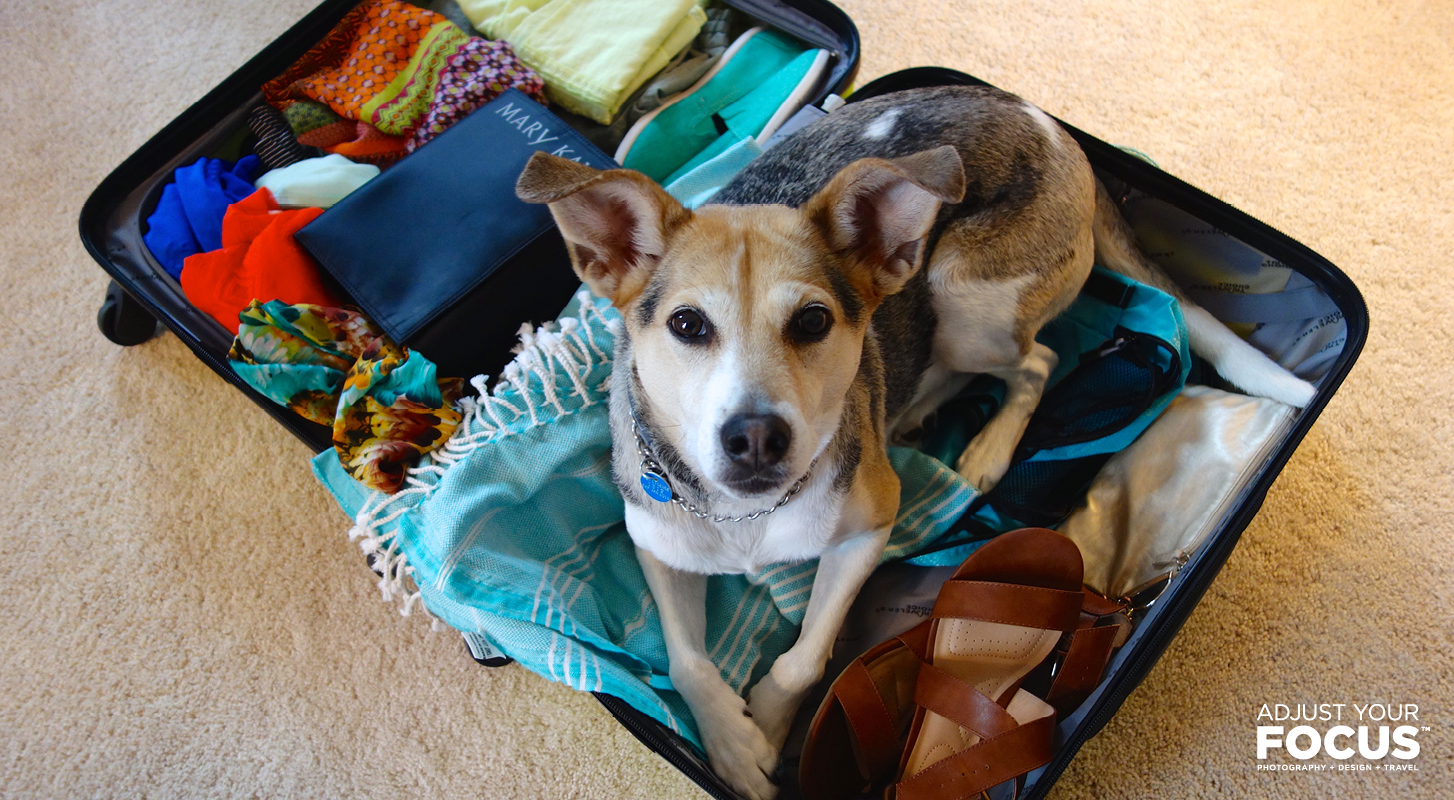 So what happened? Spent a very busy two weeks exploring… 4 countries, 6 cities, 3 flights, 3 airlines, 1 ferry, 2 hop on bus tours and 1 crazy Contiki coach. I left with hundreds of photos, many new friends, countless memories, a nice tan and unfortunately the flu (and by the time I was home strep throat).
Two weeks wasn't nearly enough time, but that's how long Holly could take off work. Neither of us had been to any of these cities before and I am grateful we were able to share so many new experiences together! At some point I'd definitely like to go back to each place for longer, but for now here is a whirlwind of a trip and nice taste of Europe…
France
Paris
From Washington we flew direct to Paris over night, arriving in the morning local time. Once through customs we took a shuttle to the hotel (stayed by the airport since the next morning we had an early flight to Rome), freshened up and were off on the train heading into the city. The one full day we had was spent walking miles and miles + taking in the city of love. We returned to Paris later for two nights on the Contiki tour.
At a Glance:
From our first day. For all pictures: click on one to bring up a slideshow gallery
From our time with Contiki. 
Italy
Rome + Pisa + Florence
After the first day in Paris, Holly and I flew to Rome where we had a couple days on our own before starting our tour with Contiki. The days were spent exploring ruins + sightseeing. The nights were spent making new friends from England, Argentina and Italy.
From Rome the tour + road trip began to Florence, stopping to see the Leaning Tower of Pisa.
At a Glance: Rome
For all pictures: click on one to bring up a slideshow gallery
At a Glance: Pisa + Florence
For all pictures: click on one to bring up a slideshow gallery
Switzerland
Lucerne + Lauterbrunnen + Swiss Alps
En route north, we caught a glimpse of stunning Lake Como as we made our way into the Swiss Alps. We spent the afternoon in the beautiful Alpine town of Lucerne, and thankfully the rain held off. After the stop in Lucerne we continued to Lauterbrunnen, where we spent two nights. I have to say Switzerland was my favorite!
At a Glance:
For all pictures: click on one to bring up a slideshow gallery
England
London
And our last stop, London. The tour technically ended in Paris (where we went after Lauterbrunnen) but there was a transfer offered where we took the coach and ferry over. From here we spent the last night with those left from the tour and then Holly and I had a few days on our own before heading home. We were very lucky and experienced sunny London! Holly even got a little sunburn. Unfortunately the last day here I really wasn't feeling well, caught the flu, but tried not to let it ruin a busy last day in Europe.
At a Glance:
For all pictures: click on one to bring up a slideshow gallery
And that was a glance into two incredible weeks in Europe! Have you been to any of these destinations/what did you think? Would love to hear about your trip.
Check back soon for a post focused more on Contiki + the tour I did.
What's next? After a week of bed rest, meds and baths returning home I am feeling much better, have caught up on sleep and am energized. Good thing because I am leaving Monday on another adventure… this time in the USA. I will be going on a road trip with my mom from upstate New York to Denver, Colorado + stopping at a lot of national parks along the way. That area of the country will be new to me so I can't wait to explore Montana, South Dakota and Wyoming. Have you been to any of these states?
Today's tidbit
"When you're traveling, you are what you are, right there and then. People don't have your past to hold against you. No yesterdays on the road."― William Least-Heat Moon